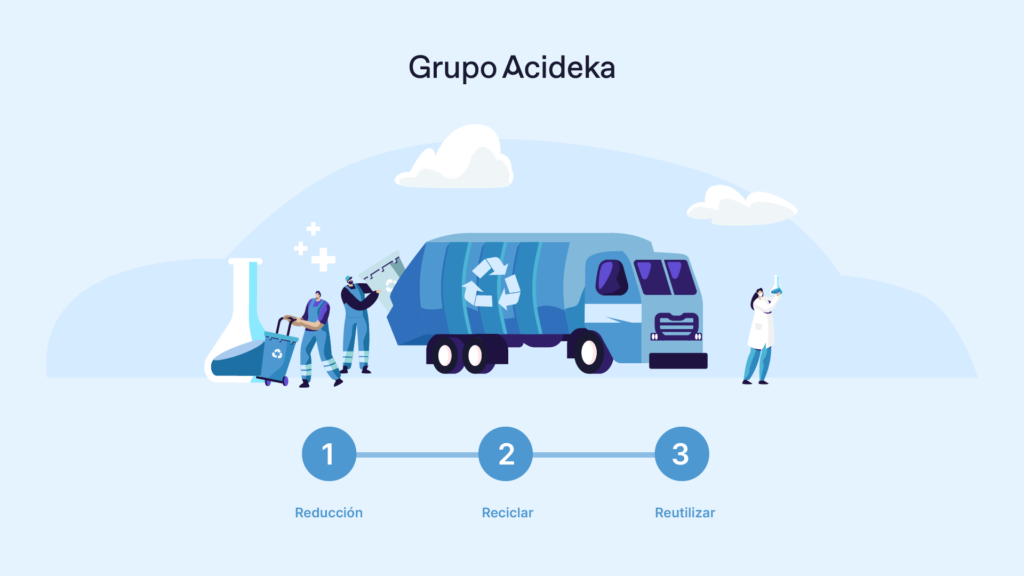 The circular economy is a model of production and consumption that can be summed up as applying the three R's to any of these processes:
Reduce the use of non-renewable resources or any new element in the process.
Recycle waste by using it for raw materials.
Reuse existing materials and products as many times as possible to create added value.
Doing this extends the life cycle of products.
What is the circular economy?
What changes and contributions is Acideka Group making to implement circular economy processes?
We are committed to the sustainability of the environment. Since the birth of the company, Esteban Azanza, its founder, has based its activity on this concept, the circular economy. You didn't hear the term used very often back in 1967 when Acideka Group was first formed, but nowadays it continues to be the cement that holds the company together.
One of our first practices was to make the most of the waste from chemical processes, and reuse it when manufacturing new products. In doing so we close the production circle, optimising consumption of resources and minimising the effects on the environment.
Two clear examples are:
Reuse of aluminium sludge generated in the anodising process that has been treated in a conventional purification system.
The acid baths generated in the stripping process with hydrochloric acid.
In both cases these by-products, which in theory are useless, are converted into raw material for the manufacture of coagulants that will be used to purify polluted water, allowing the circle to be closed.
What benefits does the circular economy offer for the environment?
Many crucial raw materials are finite, and as the global population grows, demand also increases. It contrasts with the traditional linear economic model: planned obsolescence, based primarily on the concept of "use and throw away", which requires large amounts of cheap and easily-accessible materials and energy.
Measures such as waste prevention, ecological design and reuse could save money for companies in the EU, whilst reducing total annual greenhouse gas emissions. Currently, the European Union produces over 2.5 billion tonnes of waste, which is responsible for 45% of CO2 emissions.
Advancing towards a more circular economy could generate benefits such as:
Reducing pressure on the environment.
Improving security in the supply of raw materials.
Stimulating innovation, sustainability and economic growth.
Providing consumers with more durable and innovative products.
After 55 years, all of Group ACIDEKA's production activities are carried out within the framework of an integrated management system. Our two production centres have environmental certification in line with the directives of the ISO international standards. And we work on and invest in R&D to adapt and develop our processes and methodologies such as the circular economy.
WE ARE A GUARANTEE FOR THE FUTURE